As regular participants in Dry January, Sober October and self-imposed post wedding / festival season stints of sobriety, we've often found ourselves clutching for an alcohol-free drink at occasions throughout the year. We of course are not alone, with an estimated 4.2 million Britons taking on dry January and cutting the good stuff for the first 31 days of the year. As a result, the nation has seen Alc Free beer sales doubling in 4 years, and of course brands moving to invest.
With our eyes less heavy, we kept them peeled and wanted to share some of the best examples of brand activations we spotted this January…
The Lindeman's 'Bring the Sunshine' Pledge Wall at Club Soda Festival 
Firstly, it only makes sense to showcase one of our own activations. Delivered by team Equals, the Lindeman's Club Soda Mindful Drinking Festival activation drove trial and awareness by encouraging consumers to taste the product and post a "Sunshine Pledge" to their socials, in return for a free bottle of their favourite non-alcoholic tipple. Furthermore, all those who contributed pledges or photos to Lindeman's Pledge Wall received some sunflower seeds to plant and remind them of the positive vibes they generated with Lindeman's.
BrewDog's Alcohol Free Bar
Secondly, we'll look at one of the big boys. BrewDog did not fail to disappoint. Continuing their No & Low innovation (from the much-loved Nany State, to the more recent BrewDog AF), the brand launched the world's first Alcohol Free Beer Bar in trendy East London's Old Street. Instead of the usual classics, the taps dispensed a range of No & Lo beers, featuring both guest breweries and of course 8 of BrewDog's own range. The bar also featured all the usual bells and whistles you'd expect (well, minus the alcohol that is). Next time you're around Old Street make sure to go check it out!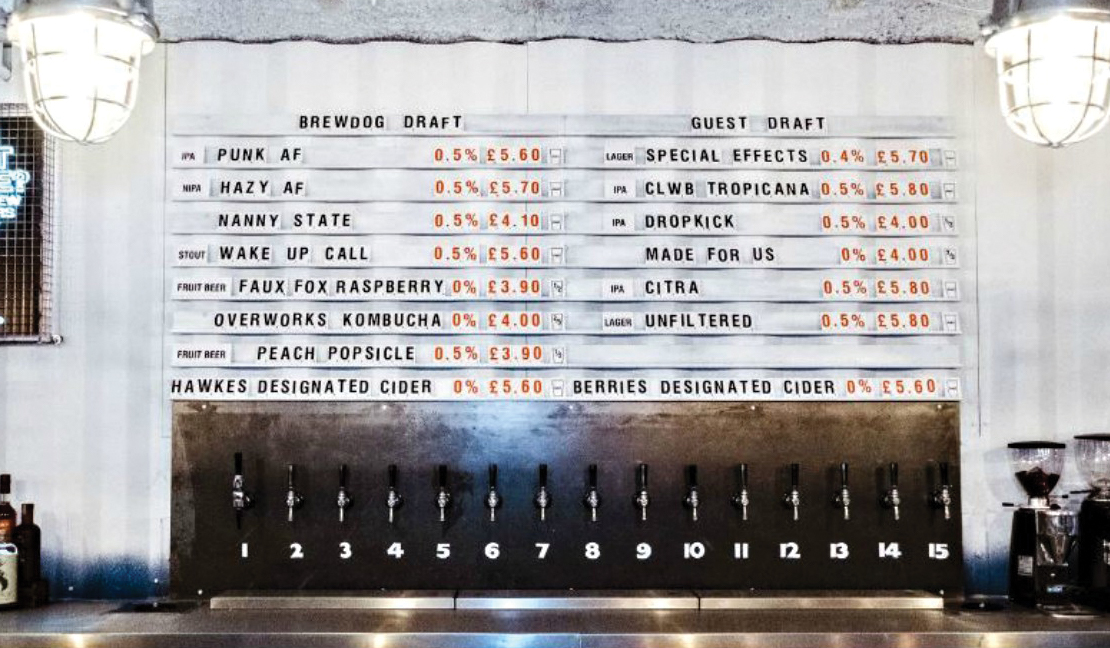 Amplify Your Dry January
Finally, a notable nod to No ABV Spirit brand Amplify, who launched their 'Amplify Your Dry January' campaign. Clever partnerships with venues across the capital helped them create a full calendar of events and experiences (we expect on a fairly keen budget). Think mindful creative workshops and pampering packages, to high octane fitness events, team games and sober clubbing.
In terms of closing comments, with the category's growth expected to continue by over 12% in the next 2 years coupled with the wider trend of health and wellbeing now firmly on consumers agendas we can expect brands to keep investing, not just in January but most likely across the whole year. We can't wait to see what's instore!